Penduduk Jenggot dibanjiri dengan bah merah berdarah yang mengalir daripada kilang batik akibat musim hujan. 
Gambar-gambar banjir merah yang tersebar di media sosial mencetuskan perbualan di kalangan warganet, dengan banyak mengulas bagaimana ia kelihatan seperti darah yang mengalir. 
Ramai pengguna Twitter seperti Ayah E Arek-Arek melahirkan kebimbangan mengenai gambar tersebut, mengatakan beliau takut pihak berniat jahat akan menggunakannya untuk menyebarkan khabar angin palsu mengenai 'hujan berdarah' dan akhir zaman.
"wE aRE iN tHE fiNaL dAyS" https://t.co/65N0yJJzyL

— Stimmy Neutron (@Rog_AlGhul) February 6, 2021
And he is right. ???
"For I will send virulent disease to her And blood into her streets, And the wounded will fall in her midst By the sword upon her from every side, And they shall know [without any doubt] that I am the LORD." #GreatAwakening https://t.co/u7fITo6wPE

— Lara Firinn (@LLombardo77) February 7, 2021
Pekalongan adalah sebuah bandar yang terkenal dengan pembuatan batik, menggunakan kaedah tradisional Indonesia yang melibatkan penggunaan lilin untuk menahan pewarna berasaskan air, yang kemudiannya menghasilkan dengan corak dan lukisan yang indah, yang paling kerap pada kain.
Pegawai tempatan kemudian mengesahkan bahawa air banjir 'berlumba-lumba' itu memang dari kemudahan pembuatan batik berhampiran.
"Mereka tidak membuang pewarna itu dengan sengaja, tetapi beberapa industri rumah dibanjiri dan pakej pewarna dibawa arus banjir itu," kata pegawai bantuan bencana tempatan, Dimas Arga Yudha, sambil menambah bahawa pewarna itu tidak toksik atau berbahaya dalam apa jua cara.
Dan nampaknya, ia bukan sesuatu yang luar biasa untuk melihat sungai-sungai di kawasan itu bertukar menjadi warna yang berbeza.
Menurut Yudha, warna merah tersebut akan hilang tidak lama lagi apabila hujan membersihkan aliran air tersebut. Jadi, ia bukan akhir zaman, hanya pewarna batik merah yang tidak berbahaya.
Luahan Wartawan: Banyak betul tweets dan comment akhir zaman. Suka eh korang bebual pasal kiamat. 
Apocalyptic shit https://t.co/Botwz0coJ2

— ggg-gia (@bxbnmz) February 7, 2021
Covid tahun lepas korang kata nak kiamat, 2026 nak kiamat. Bebual pasal ni, korang dah ready belum kalau kiamat datang?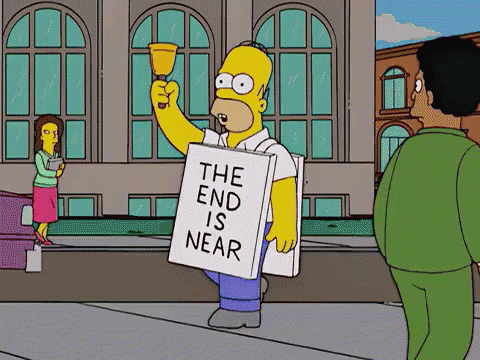 Belum kan. So lebih afdal perbaiki diri dan pertingkatkan ilmu ye. 
Podcast Plan B minggu ini!
Join Plan B's Community: Facebook | Instagram | Twitter | Telegram | Spotify