Seorang nenek berusia 75 tahun memukul penyerangnya kembali setelah beliau telah diserang dan ditumbuk oleh lelaki tersebut. 
Xiao Zhen Xie terkejut apabila beliau diserang lelaki berusia 39 tahun tanpa sebab lalu mengambil sebatang kayu dan memukul lelaki tersebut hingga beliau rebah. 
Xiao, "sangat trauma, sangat takut" selepas pertemuan itu, seperti dilaporkan CBS San Francisco, diterjemahkan anak perempuannya, Dong-Mei Li. 
Wajah Xiao bengkak dan masih belum dapat lihat dengan jelas di sebelah mata menurut anaknya, Mei Li. 
Dennis O'Donnell berkata beliau berada di tempat kejadian semasa larian paginya.
"Terdapat seorang lelaki di atas pengusung dan seorang wanita marah kecewa dengan kayu di tangannya," O'Donnell, pengarah sukan KPIX 5, memberitahu stesen itu. "Dari apa yang saya dapat lihat, beliau masih lagi ingin pukul lelaki di pengusung walaupun sedang di tahan polis."
Warganet memuji tindakan nenek tersebut. 
— wonton (@wonton) March 17, 2021
In beautiful San Francisco. Pelosiville. But she whooped that ass. https://t.co/HH89a348zk

— Carmine Sabia (@CarmineSabia) March 18, 2021
Ramai diantara mereka yang tidak berpuas hati kerana nenek tersebut tidak diberikan rawatan setelah diserang. 
this is absolutely devastating to watch. she was hurt and they're protecting him??? the news headline for her is that she beat him up for attacking her???? dont you fucking mean she was defending herself??? wtf kind of country is this. https://t.co/DycTvBVtiZ

— maia (@mamaiaisabelle) March 18, 2021
The fact that the assailant is on the stretcher after getting beaten up by the old lady who's the victim while no one is tending to her wounds https://t.co/uFiMqMNCT1

— Kriti (@by_kriti) March 19, 2021
Serangan ke atas Xiao itu berlaku beberapa jam selepas polis mengumumkan peningkatan rondaan di kawasan kejiranan kaum Asia di San Francisco. Ini kerana beberapa kejadian serangan terhadap kaum Asia Amerika sejak kebelakangan ini, termasuk di Georgia dimana 6 wanita Asia cedera akibat kejadian penembakan. 
Xiao mengatakan beliau sedang menunggu di lampu isyarat apabila suspek tiba-tiba menumbuk matanya. 
Suspek dilihat terlantar dan bergolek di atas usungan dalam video yang dirakamkan selepas serangan itu. Rakaman itu juga menunjukkan Xiao memegang papan di sebelah tangan dan pek ice. Muka penyerang itu dikatakan berdarah dan bengkak.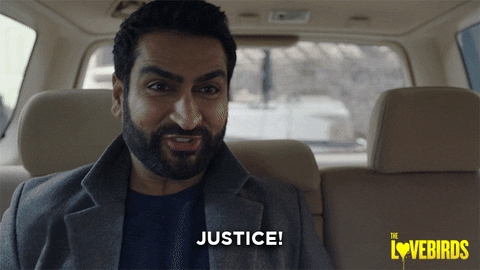 "Tak guna, kenapa kamu memukul saya?" kata wanita itu dalam bahasa Cina
Here is what I'm hearing from the elderly lady, "This asshole, swung at me. (points to assailant) You damn asshole. You hit me! (sobbing to officer) He hit me. That asshole. Punched me right here."

— Anne T. (@anneconsider) March 17, 2021
Polis berkata, kes itu sedang disiasat sebagai jenayah kebencian. Lelaki berusia 39 tahun yang dituduh dalam kes ini juga merupakan suspek dalam satu lagi serangan ke atas seorang lelaki Asia berusia 83 tahun di kawasan sama pada awal Rabu.
Cucu Xiao sedang mengumpulkan dana untuk membantu neneknya mendapatkan rawatan trauma yang dialami nya. 
Luahan Wartawan: That is what you get for hitting an unarmed Asian grandma. 
You get your ass handed on a platter and you fucking deserved it. She whoop you good. 
Murica, what's happening with y'all? The sudden influx of racially motivated attacks is unbecoming of a great nation. There is no excuse for your racism. 
Podcast Plan B minggu ini!