The recent tragic demise of a nurse brought mental health wellness to the forefront, especially for our frontline workers. Speculations of lack of rest,  skeletal workforce and poor manpower management were rife on the internet as it sparked a conversation amongst fellow nurses and the general public alike.
In an exclusive interview with Plan B, a nurse's husband and a nurse who wished to remain anonymous, they shared their own experiences of the situation that's been plaguing the healthcare industry.
INTERVIEW WITH JANE* A NURSE
HAS THE MANAGEMENT STYLE CHANGED/IMPROVED OVER THE YEARS? DID THE PANDEMIC MAKE THINGS WORSE?
Well to be honest, the current problems that we are having are not new. E.g. poor staffing, lack of manpower, little flexibility on taking family care leave (FCL) and child sick leave (CSL) and disrespect from doctors and family members. The current pandemic has only exacerbated it, making it worse. The issues are slowly being exposed via social media and over the news in the past 2 years.
There are instances where nurse managers who deny staff their simple requests to use family care leaves or even child sick leaves. We are often made to stay back and clear up our work. When we finish our work late, we will have to record our timing as per the roster that's been allocated to us.
For example, today I worked from 7am to 2.30pm. But let's say, I had a patient who collapsed suddenly as my shift ended, I have to stay back till 5pm .However, I am still deemed to finish at 2.30pm.
We hope that Nurse Managers (NM) can be more sympathetic towards us and our respective circumstances.
A RECENT PRESS RELEASE BY MOH MENTIONED THAT NURSES WERE ASKED TO CLEAR LEAVES THAT HAVE ACCUMULATED SINCE THE PANDEMIC STARTED. ARE YOU ABLE TO CLEAR YOUR LEAVES? 
Usually we are able to carry them forward for maybe at most 5 days to the following year. But for the past 2 years, we have been made to come back even when we are on leave due to manpower constraints. How to clear the leaves like that? To be fair to the NMs, their hands are tied too. We are allowed to encash (uncleared leaves to be paid in cash) the uncleared leaves but honestly, most of us just want the leaves because we want to rest.
WHAT CAN BE DONE TO MAKE THINGS BETTER FOR ALL OF YOU? 
We just want to have a bit of self-respect and dignity intact in the midst of this pandemic. On top of that, we don't ask for much. We still hope to be able to go on leave in peace and for us to utilise our entitlements like FCL and CSL because most of us are parents and honestly this pandemic has made it tough for everyone with kids, especially when they have home based learning etc.
INTERVIEW WITH A NURSE'S HUSBAND
WHAT ARE THE EXPERIENCES YOUR WIFE WENT THROUGH UNDER THE MANAGEMENT?
My wife is a classic case of a fearful nurse who is too absorbed and obligated to her duty. This is probably due to her being in one work setting for too long and not knowing how other organizations work, like tunnel vision.
She is a community nurse based in care centres around rental/high elderly count estates. She talks to her superiors with extreme politeness almost like she's talking to God. She does not know how to say "no" nor share that she is overwhelmed. 
I believe my wife needs to take ownership of her life and steer it herself, otherwise it'll be tough when I'm not around. She took her work home almost every day for years till I intervened and made some suggestions on how she can be more effective and productive within her contractual hours.
We're childless and haven't even committed to trying for one due to many factors. Her libido and menstrual cycles have been severely affected and the gynaecologist had no answers either. So I introduced her to some activities within my circle of friends to ensure that she could find work life balance.
I introduced her to spiritual healing and self inquiry. Thankfully all these have been making positive changes in her life, though more needs to be done as this is totally up to the person undergoing such a journey to take charge of their lives.
WHAT CAN BE IMPROVED IN TERMS OF NURSES' ADVANCEMENT?
The paper chase. Like many others, my wife took up a bond with a hospital that paid for her diploma on top of some study allowance. She furthered her studies doing a part time advanced diploma while working full time. She then went on to take a nursing degree fully borne by herself.  This is a common path undertaken by thousands of nurses, especially those who aspire to be a Nurse Clinician aka "Sister". The degree is necessary for those who want to be promoted beyond a senior staff nurse. But for them to practice in a specialized area like neurology, mental health etc, an advanced/specialization diploma is needed even when they already have a degree. 
Some specialisation requires theoretical/academical knowledge. Thus if the system recognises alternative routes of specialisation like in-house training/certification, then the advanced diploma wouldn't matter.
AS A HUSBAND TO A NURSE WHO HAS BEEN SERVING IN THE INDUSTRY FOR QUITE SOMETIME, WHAT ARE THE ISSUES SURROUNDING THE MANAGEMENT THAT NEEDS TO BE ADDRESSED?
There is a link to a post written by a nurse that summarizes the management issues. Basically continued manpower shortages, negative and toxic workplace culture.
The appropriate ratio of nurses to patients should be 1:4 as per MOH. When my wife worked in a general ward in 2018, the ratio of nurse to patient was 1:12. I couldn't get the latest ratio at the point of writing, but it had definitely increased.
As the bulk of healthcare works on a semi privatised business model, I am unsure how their management system works with the politics of lower management right up to the board.
I have heard of nurses going through divorce, even from couples who are both nurses themselves due to the workload and conflicting career versus family aspirations.
HOW AND WHAT WE CAN DO TO SUPPORT NURSES MENTAL WELLBEING AS FRIENDS, SPOUSES, ETC? 
It would be very helpful for the society to be able to look out for each other as a friend or family member in a sense that they could maintain a bond that would allow constant and frank communication. In this way, it becomes easier to spot troubled workers.
A holistic support system would probably entail a spectrum of mental, physical and spiritual or self-enquiry/discovery activities. Such systems need active usage and high take up rate, to be able to evolve and fulfill its purpose.
Nursing may be seen as an iron rice bowl but what if they are not developed or strong enough to withstand the intensity of such an industry?
They must understand that voicing out doesn't mean they're weak or lousy. It is a way to improve themselves and their organizations. It is a way of finding ways to improve themselves and also the organisation.
WHAT ARE THE STRATEGIES YOU BELIEVE WILL HELP IMPROVE THE MANPOWER AND MANAGEMENT SITUATION?
Better visibility on the existence of the union and whistleblowing platform
I would suggest better visibility on the existence of the union and whistleblowing platform. It could be in the form of banners, videos of the platform being used to convince others of its confidentiality and also circulars on how these have helped troubled workers with figures. They could also consider having a dedicated column for physical and mental health content in their newsletters. They need to do more to gain the trust of the workers that they are not toothless.
Diversifying the skillsets of the workforce
The workforce could start diversifying their skill sets to expand into areas like management, business development, financial planning, networking etc. An allowance could be made in their roster to allow for them to explore these areas. Spending an hour or two per day or a certain amount of hours weekly to explore these areas.
This can come in handy and allow them to see that their career need not be restricted to just one type of industry. This can give them the flexibility to rotate sectors when needed, which then could alleviate their fears of losing their jobs without any alternatives.
They should not identify themselves to be just solely relevant to one scope of work.Though this is not for everyone, it is a way of being responsible for one's family and also to at least acknowledge that one has at least tried all options available.
Reporter's Opinions: Seeing the healthcare workforce firsthand as a daughter of a patient who was warded for 3 months made me realize how overworked these nurses are. Yet most of them will smile at you when they see you. They answer the various questions I had as an anxious daughter.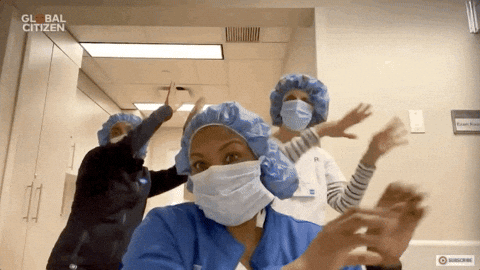 They were the ones who calmed me down when the doctors pissed me off or when some of their own were rude and irresponsible. I've had my fair share of bad encounters with SGH nurses and doctors but they were few as compared to the ones who are really dedicated and understand their job well.
As an ex educator, I can relate as the management problems are similar. It was very hard for us to clear our leaves, we couldn't eat in peace and we were made to feel guilty when we took MCs. We have to deal with crazy student to child ratios of 1:15 (for 18 months old) when the recommended guideline is 1:8. The recommended guideline remains just that but it is not being applied in the field.

It is allowed due to some loopholes and manpower issues.
Just because we are doing a service to mankind, it does not mean that we aren't humans. The high attrition rates in education and healthcare industries is due to burnout. Teachers, nurses, social workers, they are all humans too. They are allowed to fall sick, to take some time off for themselves without feeling guilty.
They take care of your various needs but who takes care of them? It is about time that the management look at these people as human beings and not robots they can program and bend at their will. 
Just like your patients and customers, your workers are not your fucking money making toys. Give the ones with calibre their due or lose more good workers in these industries. Or do you need more deaths before you make a change?
Listen to Plan B's Podcast this week! 
Follow Plan B's Social Media: Facebook | Instagram | Twitter | Telegram | Spotify | Youtube